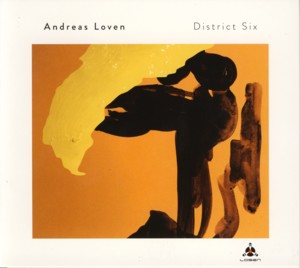 ANDREAS LOVEN ~ DISTRICT SIX
LOSEN 152 (Barcode: 7090025831522) ~ NORWAY ~ Jazz
Recorded: 2015
Released: 2016
---
This is the second album by Norwegian (currently residing in South Africa) pianist / composer Andreas Loven

Find albums by this artist

, recorded in a classic Jazz quartet setting with three native South African musicians: saxophonist Buddy Wells

Find albums by this artist

, (female) bassist Romy Brauteseth

Find albums by this artist

and drummer Clement Benny

Find albums by this artist

. The album consists of nine original compositions, all by Loven. The album is dedicated to the Cape Town´s "District Six" community, which symbolized the spirit of possible coexistence in South Africa, but was demolished during the 1970s by the apartheid regime.

The music is beautifully melodic and well within the mainstream Jazz idiom. Contrary to the expectations, it sounds very European, even Scandinavian most of the time, displaying only subtle African influences. This of course does not harm in any way the beauty of this music, but is simply, as mentioned above, somewhat unexpected.

The most surprising element of this album is the exceptional level of playing displayed here. All four musicians play gracefully, elegantly and sympathetically towards each other. Loven plays the piano with gentle touches, full of lyricism and melancholy. Wells follows the great tradition of seductive saxophone, with long vibrato lines and heartbreaking charm, Brauteseth plucks the bass with sheer virtuosity and incredible feel of both melody and rhythm, and finally Benny keeps his pulsations well in the background in order not to disturb the overall delicate approach, and is more upfront only when it is completely appropriate, showing a remarkable respect so rarely met in drummers.

To avoid any misunderstandings, the fact that this music is subtle and melodic does not mean that it is in any way trivial. These tunes are all excellently woven, structured and performed, and the tranquility, so rarely present in today´s music, is exactly what this music needs. In our daily hectic life pressured by the aggressive deafening media, music like this one is an oasis if sanity and tranquility.

Fans of melodic, Scandinavian Jazz, should have a field day with this album, but basically there is so much excellent music herein that every Jazz connoisseur should be able to bond with it. Warmly recommended!
---